Aikido of Dallas is the central dojo for the practice of Aikido in the DFW Metroplex for members of the United States Aikido Federation (USAF). Whether a novice or seasoned practitioner, you are invited to visit our dojo during any scheduled class. Aikido of Dallas is a non-profit organization dedicated to the dissemination, practice and philosophy of the martial art of Aikido.
Aikido emphasizes more than fighting skill. Rather it aims to resolve conflict through dissipating attack by controlling the aggressor's energy. The emphasis is on method versus strength making Aikido particularly effective for women, children and the elderly. In addition to improving self-defense skills and physical fitness, the discipline of Aikido enjoys two fundamental commitments: a peaceful resolution of conflict, whenever possible, and self-improvement from Aikido membership.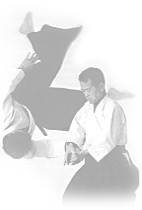 Bob Mason sensei, 6th degree black belt, leads instruction in Dallas. Tohei sensei, under whose direction Aikido of Dallas was formed, and Yamada sensei, USAF Chairman, were students of our founder, O-Sensei.